The West Virginia Filmmakers Film Festival

Our Sponsors
Landmark Studio for the Arts
Elk Hotel/Essential Salon
Elk Theater
Evens Chevron
Jaguar Educational
Town of Sutton
Braxton Democrat
Citizens News
The Café Cimino
West Virginia State University
The BUZZ 1490 AM
The BOSS 97 FM
SymbolArt

Featured Filmmakers
Richard Ndunguru, visiting filmmaker from University of Dar es Salaam
WVFFF Founders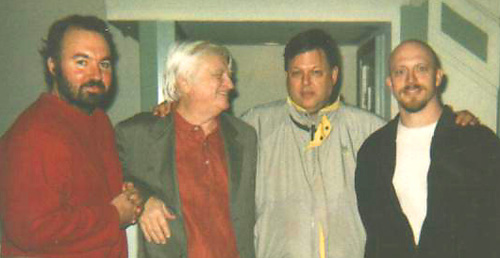 Scott Martin, director of SEVEN TO MIDNIGHT, Clyde Ware, Steve Fesenmaier, Kevin Carpenter at WVIFF Lifetime Tribute to Clyde Ware 2002
Steve Fesenmaier co-founded WVFFF with Kevin Carpenter in January 2001.
Steve worked with Kevin, who as president of the Landmark Studio, asked him to create a film festival just for West Virginia filmmakers. The first festival, in February 2001, was a one-week event. Steve programmed the films and filmmakers, writing descriptions of the films and creating the graphics for the posters, flyers, tickets, etc. He also promoted the event in his Graffiti column and sent press info to other media outlets.
Steve has continued his work year-round, using his many contacts with WV filmmakers both inside the state and around the world to track down the most interesting films. He also raised funds from Kay Goodwin's Education and the Arts, Charlie Jones' Amherst Coal, and other local funders. He is particularly proud of programming the only WV showings of the state's two greatest films - the restored THE NIGHT OF THE HUNTER (1955) and the restored MATEWAN. (1987)
He is a co-founder of the WV International Film Festival (1984) and the West Virginia Filmmakers Guild (1979). Steve continues to volunteer his expertise every year.