The West Virginia Filmmakers Film Festival

Our Sponsors
Landmark Studio for the Arts
Elk Hotel/Essential Salon
Elk Theater
Evens Chevron
Jaguar Educational
Town of Sutton
Braxton Democrat
Citizens News
The Café Cimino
West Virginia State University
The BUZZ 1490 AM
The BOSS 97 FM
SymbolArt

Featured Filmmakers
Richard Ndunguru, visiting filmmaker from University of Dar es Salaam
Bill Richardson's
The Mine Wars: The Coal Miners' War for Freedom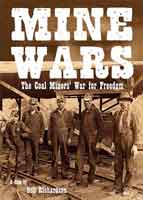 2004 55 mins. Bill Richardson
Bill Richardson, director of last year's excellent documentary on the Hatfields and McCoys. Feud, continues his investigation of local history with this look at the age of mine wars in Southern WV, and their influence on American life. Using rare historical footage and letters written by participants, Richardson shows a positive view of the union struggle during this era, explaining what happened at the Matewan Massacre and the Battle of Blair Mountain. He interviews local experts including Dr. Lon Savage, Dr. Fred Barkey, Dr. Stuart McGhee and Dr. Bailey and Temple U. labor historian Dr. Ken Fones-Wolf.
They all describe well-known events that have until now only been shown in film piecemeal. (See other WV films including Even the Heavens Weep, Matewan, Smilin' Sid, also by Bill Richardson.)
Bill Richardson is an award winning filmmaker, a playwright and author. He got his start in film working on John Sayles Matewan. Since then he has worked on numerous features, commercials, documentary and educational films. He received a Gold award from the Worldfest International Film Festival as a producer in the educational film category for his film Feud: The Hatfields and McCoys. Feud was honored as Best Historical Documentary at the 2002 West Virginia Filmmakers Film Festival.
He premiered his newest film, Mine Wars at the Williamson Coal Festival in July 2004. 250 people attended its Charleston premiere in August at an event sponsored by the WV Labor History Association at the South Charleston Museum.
Access: Bill Richardson, WVU Extension Office, Mingo County Courthouse, Room 3, Williamson, WV 25661. Call 304/235-0370 or e-mail brichard@wvu.edu.